Portfolio Management Certification
Develop a competitive advantage!
Who is this Certification for?
The PfM² Portfolio Certification is for anyone involved in portfolio management activities, or for anyone who whishes to develop a more holistic profile and transition into portfolio management role in either a leading or supporting capacity. 
This certification is for Portfolio Managers (PfMs), Members of a Portfolio Office (PfO), PMO/PSO members, Middle or Senior Managers, Portfolio Managers of EU funded projects, Educators and trainers, Portfolio and project consultants.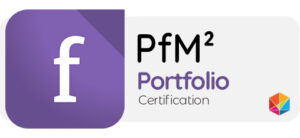 The PfM² Portfolio Certification is designed to confirm a candidate's understanding of key portfolio management concepts and knowledge of the PfM² Methodology. 
The exam questions cover the areas of Portfolio Governance, Processes, Artefacts, and Mindsets and focus mainly on the theoretical aspects of the PfM² Methodology, covering the full breadth of the what, when, who, how and why of PfM² Portfolio Management. 
Candidates who achieve the certification prove a level of understanding of the methodology required to lead or participate in portfolio management activities effectively or support a PfM² portfolio from an Portfolio Office (PfO) or consultants position. 
Exam difficulty level: medium.
Study material: The exam questions are based the following:
All PfM² Artefacts
Key Portfolio Management Tools & Techniques 
A Certification that makes a difference!
Exam Format & Prerequisits
This is an online proctored exam powered by our online examination platform:
Online proctored exam
Multiple choice questions
50 questions per exam
45 minutes duration
At least 35 questions need to be answered correctly
One mark awarded for every right answer
No negative marking for wrong answers
There are no formal prerequisites for taking the PfM² Portfolio Certification exam. However, we recommend first achieving a PM² Certification and following a PfM² Portfolio Management training from one of our Affiliated Training Providers.